By Lynne D Shelton, Esq.
Bullying in our children's' schools is a worldwide problem. This article will look at the problem, the costs, and how the franchise communities' brands are helping to prevent bullying in our schools. Children and educational franchises have always been a fun business to be in, now they are showing an even nobler foundation.
Worldwide Problem
Though too many adults still see bullying as "just part of being a kid,2" beginning around 2006, the United Nations began reporting on the problem as a worldwide disease called "bullycide" (taken from the number of children and teenagers who commit suicide traceable back to bullying. However, the violent behavior itself can trace back to a 1958 study analyzes data on 7,771 children who had been bullied at ages 7 and 11. At age 50, those who had been bullied as children were less likely to have obtained school qualifications and less likely to live with a spouse or partner or to have adequate social support. They also had lower scores on word memory tests designed to measure cognitive IQ even when their childhood intelligence levels were taken into account and, more often reported, that they had poor health. "The effects of bullying were visible nearly four decades later, with health, social and economic consequences lasting well into adulthood. For children, "peers are a much more important influence than has been realized.[1]"
[1] UNESCO (2017). School Violence and Bullying: Global Status Report (PDF). Paris, UNESCO. pp. 17, 29, 31. ISBN 978-92-3-100197-0.
In 2014, the Centers for Disease Control and Department of Education released the first federal uniform definition of bullying for research and surveillance[1]. Additionally, the government has created a website named stopbullying.gov which has many resources and statistics. Bullying prevention is a growing research field that has made great strides in answering important questions. We now know much more about how complex bullying is, and how it affects youth at the time they experience it and even as adults. Promising Prevention Strategies include Studies also have shown that adults, including parents, can help prevent bullying by keeping the lines of communication open, talking to their children about bullying, encouraging them to do what they love, modeling kindness and respect, and encouraging them to get help when they are involved in bullying or know others who need help.

The Problem is a costly one
Beside the human capital, the financial impact that this disease is causing can only be described as exceedingly exploding. The World Health Organization states conservatively, that the economic impact of violence against children and adolescents is substantial[1]. Youth violence in Brazil alone is estimated to cost nearly US$19 billion every year, of which US$943 million can be linked to violence in schools. The estimated cost to the economy in the USA of violence associated with schools is US$7.9 billion a year[1]. As the graph shows below, no type of country is immune from this disease. Whether you are from an emerging country or a well-established country, boys and girls are being infected and affected for the rest of their lives.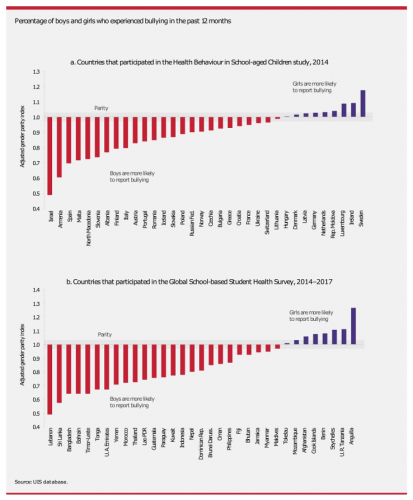 [2] Gladden, R. M., Vivolo-Kantor, A. M., Hamburger, M. E., & Lumpkin, C. D. (2014). Bullying surveillance among youths: Uniform definitions for public health and recommended data elements, Version 1.0. Atlanta, GA: National Center for Injury Prevention and Control, Centers for Disease Control and Prevention and US Department of Education.
[3] WHO (2016). Inspire. Seven strategies for ending violence against children.
[4] UNESCO (2017). School Violence and Bullying: Global Status Report (PDF). Paris, UNESCO. pp. 17, 29, 31. ISBN 978-92-3-100197-0.
How Franchise Concepts Combat this Problem
Many education brands have launched programs to combat bullying and Bullycide. Many brands are tackling this problem with outside the box thinking – or so it seemed to us. One of the most successful methods believe it or not, is also our favorite – play! The benefits of play are huge, they include the development of  benefits of Affective, Social, Physical, Attention, Language and Cognitive Benefits. Let's look at them in more detail. As reported by the CDC and confirmed by WHO, these include:
The Affective Development Benefits include:
Enhanced self-confidence
Enhanced self-esteem
Anxiety reduction
Therapeutic effects
The Social Development Benefits include:
promotes sharing
promotes turn-taking
develops conflict resolution skills
leadership skill development
control of impulses and aggressive behavior
The Physical Development Benefits include:
enhances & provides gross motor experiences
enhances & provides fine motor experiences
provides physical challenges
enhances self-help skills
The Attention Development Benefits include:
regulates attention
increases concentration
influences persistence
The Language Development Benefits include:
enhances communication skills
increases vocabulary
influences story telling ability
influences emergent literacy
And the Cognitive Benefits include:
increases Cognitive Processing Speed
develops & strengthens Thinking & Reasoning Skills
So why is Cognitive Processing Speed so important? Because, in school it impacts alertness, learning, expression, social adjustment, academic identity, emotional comfort, and much more. And at   home it impacts  homework, chores, relationships, recreation, sports and games) as well as the self-concept, states Jason Pine, President of franchise system Professor Qwbli's, formerly Play With Purpose. He has been educating teachers over the past decade plus across the countries at the Play With Purpose Conferences how screen-free games are an amazing tool to prevent bullying! After a conference a teacher in a public-school system in the Midwest wrote to substantiate the trainings' impact:
"Hello Jason,
First of all, I wanted to thank you for a truly remarkable conference. It has given new life to my classroom and lessons. I wish you could experience the energy and excitement of my students as a result of your work. In using games in my classroom, I quickly discovered something beyond our discussions at the conference – GAMES PREVENT BULLYING!
The long-lasting cognitive benefits of students will be your legacy, but the immediate impact these games have had in preventing the tendencies and thoughts that lead to bullying behavior may equally be so. Our school and district have spent thousands of dollars and countless hours to combat the bullying epidemic in our schools. It is very clear to me that screen-free games may be the solution to our problem. Others who have experienced the change in my classroom and students agree.
The first thing that stands out to me is that games create a safe environment that allows students to take risks without feeling vulnerable. The games have also been a great tool for the students to learn about each other in a way they have not done before. Most of the kids have been in the same classes and known each other for five years, yet these games have let them discover things about each other they never knew. Both of these have led to a new understanding and acceptance among my students. Not only can you see the difference in my classroom, you can see it in the hallways and on the playground. There is a newfound respect and appreciation that has resulted from playing games.
Is that amazing or what?! I am not sure if you realize the power of these games in this regard, but my principal (cc'd on this email) would like to set up a meeting with you to explore this topic further.
Thankfully, Elaine Bishop"
Professor Qwbli's has also started a Qudos Wall, their take on kudos. The Qudos program gives kids and parents a place to notate kids acts of kindness big AND small. It may be something as big as transforming or lifting up an entire community, but we believe it is often the simple things, such as a kind word or smile, that can make the biggest impact on those around us.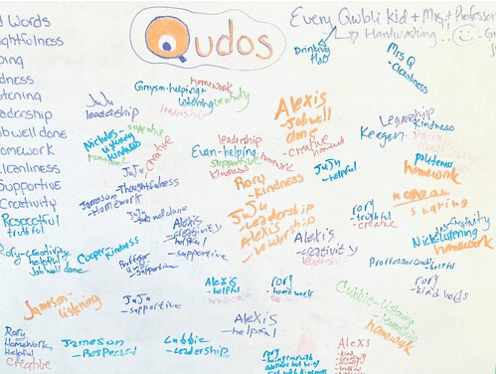 Other franchise brands are also taking on bullying through non-computerized and screen free activities. Besides game, play-based learning, a physical education system does wonders as well. We applaud Planet Fitness, a fitness education and workout franchise brand, for their Judgement Free Generation program[1] They created this special promotion in 2016, to continue its fight against bullying. The company and its franchisees will donate 100% of the enrollment fees, with a $1.3M commitment to Boys & Girls Clubs of America and STOMP Out Bullying™ to benefit its philanthropic initiative, The Judgement Free Generation™. Making people feel accepted and respected is something we have always proudly stood behind. With 1 in 4 kids reporting being bullied today** we are truly approaching an epidemic, which is why we have joined this movement to take a stand against bullying and focus on promoting kindness and inclusion, stated Chris Rondeau, Planet Fitness' Chief Executive Officer during the interview.
[5] Planet Fitness Flexes to Fight Bullying and Encourages Everyone to Spread Kindness. Retrieved 7 14 2020. https://www.planetfitness.com/newsroom/press-release/planet-fitness-flexes-fight-bullying-and-encourages-everyone-spread-kindness
Another early adopter of combating bullying is Pro Martial Arts. Beginning in late 2013, Pro Martial Arts ARMOR Bullying and Predator Prevention Program is taught in every PRO Martial Arts dojo[1]. The ARMOR® Bullying and Predator Prevention program teaches students practical skills to recognize bullies and predators, confidence, mutual respect, and assertiveness when seeking help. The PRO Martial Arts ARMOR® is developed by renowned martial artist Grandmaster Ed Samane, who holds an eighth –degree black belt in Tang Soo Do and Sin Moo Hapkido, and a fifth-degree black belt in Tae Kwon Do. During the development of the ARMOR® program, Samane consulted with national experts in psychology, law enforcement, medicine, education and martial arts.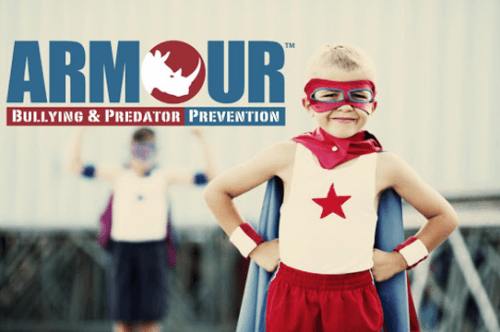 "As someone who was bullied, I believe it is incredibly important to offer children a program where they can learn how to avoid and combat bullying," said Grand Master Ed Samane. "We want to work together and affect communities across the nation.6" (quoted in part)
There are many, many more children and educational franchise systems that are making positive impact on our next generations. At Shelton Law we applaud those that are using their skills and talent to take on any problems that would stunt the growth potential of any of the great minds of the future.
Ms. Shelton in a previous life was a franchisor of a large franchise system, and is currently a Senior Attorney for Shelton Law & Associates franchise law firm. Shelton Law & Associates ("SLA") Attorneys have 50+ years' business consulting, franchise and trademark experience. Their knowledge facilitates an understanding of a large variety of businesses, services and technologies. They help businesses protect their Brands through Trademark, Copyright, and Business contractual transactions. These services allow SLA to "Expand their Brand®" through Franchising.  For Franchisors, SLA provides full outsourced in-house counsel and consulting.
Shelton Law & Associates additionally works with entrepreneurs buying franchises by assisting with Business Creation, Industry Evaluations, Franchise Disclosure Document Review, Fairness Factors, Opinion Letters and Negotiations.
For more information or to schedule a customized consultation for your business you can write to franchising@SLA.Law or call (866) 99-FRANCHISE.
[6] PRO Martial Arts ARMOR® program provides self-esteem building solutions for children affected by bullying