Buying a franchise could be your goal, but is it a profitable option for you? Many people today want to own a business, but they don't want to struggle through the turmoil of a startup. Plus, you may not really have a new concept that's ready to go. Franchising gets you in the door and making money sooner.
Consider these reasons to buy a franchise now.
#1: They're Already Successful
Statistics range widely, but the bottom line is that startup businesses fail more often than they succeed. And with startup funding drying up, it is harder than ever to start your own business by yourself. However, franchises are already successful and they have a proven track record. Thus there are many funding options available to you through franchising.
#2: They Already Have Brand Recognition
How do businesses get customers to come in the door? It is not just about the marketing and word-of-mouth advertising, but also building brand awareness. Franchises already have this. If you want a sandwich, you know which fast food restaurant you want to go to because that name pops into your mind. If you need a gym, you likely know of a few. You get the idea.
#3: You Get All the Training You Need
No one expects you to spend years working your way up in a business to own it. Almost all franchises today have comprehensive training programs to familiarize their owners with the business, operations, products, people and even how to run a successful organization. While you need to be willing and able to learn to run the business, you do not necessarily need to have experience to do well.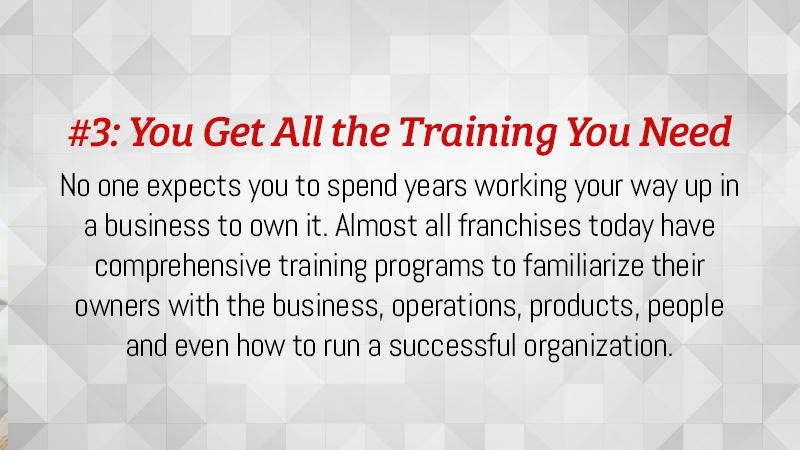 #4: They Help You With the Startup Expenses
Depending on the franchise, you may get assistance with a variety of the expenses of starting up the loc
ation, such as help with real estate, construction and even marketing of the new location. This can help to minimize the strain on available capital at the start of the process. Many will help with selecting a location, designing the space, creating a customer-centric design and even helping you to meet local building codes within the parameters of the business.
#5: You Avoid a Great Deal of Risk
One of the biggest reasons to invest in a franchise is that you don't have to take on a great deal of the risk. Even if the business does not work out, chances are good the franchisor will buy it back. If not, there are franchise resale companies you can use to sell your franchise. You greatly reduce your risk with franchising than if you opened a business on your own.
Owning a franchise simply makes sense financially. If you just want to be in a successful business without all of the overwhelming demand and risk that comes with being a startup entrepreneur, this is the route to take.
You can own a franchise. To learn more about the benefits of doing so, franchise law, or how you can sign up for a free consultation with an attorney, give our team a call.