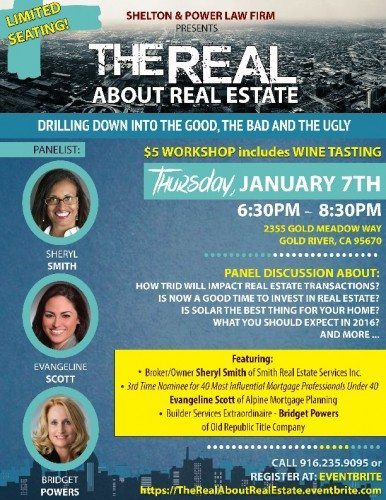 The REAL About Real Estate.
  "Drilling down into The Good, The Bad and the Ugly"
     Are you ready to know the dirty truth about Real Estate?
This detailed seminar from the Top Real Estate experts is designed just for you to answer all your initial questions on TRID, buying basics and why having a great understanding of trends such as Solar Panels is so important to your selling success.  
 To give you a preview, here are just some of the questions this workshop will answer:

How do I assure my safety in a TRID transaction and assure my chances of success?

Are there any negative impacts for home improvements?  

How do I get the facts before I buy?

What should I expect in 2016 for real estate in my area?
 Register today at http://therealaboutrealestate.eventbrite.com
Seating is limited.